What does honest leadership look like?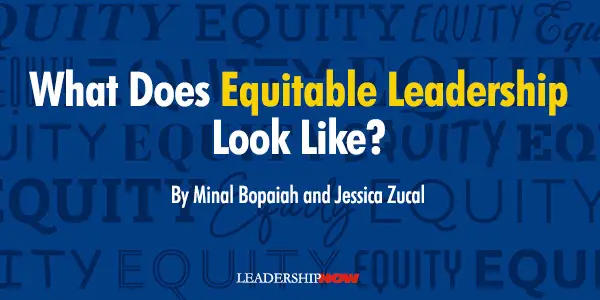 NSDURING the pandemic, one of us became a bit of a Star Trek fan. Minal never really liked science fiction, but she ran out of shows to watch and became intrigued when Stacey Abrams, who is a famous Trekkie, said Voyager was her favorite Star Trek show, even though Deep Space Nine is considered the political one. allegory . Yet Abrams mentioned Voyager, and we can't help but think it was Captain Janeway. In Voyager, women finally had a realistic portrayal of female leadership aboard a Star Trek ship, one that was determined and decisive, but also empathetic and willing to listen.
Still, Janeway doesn't seem like such a big deal until Minal finished watching all Voyager episodes and decided to dive into Star Trek: The Next Generation (referred to as TNG under Trekkies, we're told). The first season is almost shocking in how Patrick Stewart's Jean-Luc Picard behaves. Brash and bossy, he expresses his frustration by yelling at children, especially poor Wesley. In Picard, the recent revival of the Star Trek franchise, it's clear that the character has been evolving since season one of TNG. But we don't think Captain Janeway should evolve as much as they revive her character. In fact, she is almost a prescient model of what good leadership looks like in the 21st century.
For decades, outdated models of Western leadership have prevailed, which mainly focus on white culture and male energy: someone who is sure of themselves, who has all the answers, who takes up space, shows no weakness and knows how to win. But in a world turned upside down – by a pandemic, by climate change, by accounting for systemic injustice – what does winning even look like now?
Leaders have come to feel that things are changing, that the old tools are not working. They have tried to guide their staff through these changes by emphasizing that we are more alike than we are different, that anyone who works hard can succeed here, and they were confused when the staff responded with indignation or anger.
So what exactly is going on?
The definition and expectations of leadership have changed. Talented staff no longer want a general to lead them into battle; they want a coach who gets the best out of each of them. They want someone with the courage to be vulnerable and say, "I don't know, but I'm determined to figure it out with you."
They want a just leader. Someone who sees the system. Someone who is not tolerant of differences but is so comfortable with it that they are willing to embrace it and make it a feature, not a workplace bug. They want someone who understands that great organizations encourage everyone to play to their strengths instead of uncertainly asking everyone to fit into the "ideal" employee model.
However, our brains are wired to feel threatened by differences. In The Power ManualCyndi Suarez writes:
The concept of difference is central to interactions in relationships of inequality. Humans have used differences to value, divide, and structure society, such as race, gender, class, age, and sexuality. One's relationship to difference influences one's interactions, which reinforce or interrupt these value structures. The supremacist approach to power offers two options for dealing with differences: ignore it or consider it a reason for separation. A liberating approach sees differences as strengths and views interdependence as an option.
How do you begin to nurture a liberating approach to power?
By examining your relationship to difference. No superficial differences – like a disagreement about the approach or process to use, the kind of difference that tests your worldview, your beliefs and values. Leaders must navigate and embrace the latter to create inclusive and equitable environments where everyone thrives. And as Jessica has discovered through her work coaching leaders, this requires a higher degree of emotional intelligence, especially emotional self-awareness and the ability to self-regulate in the moment. The good news is that you can build these muscles with deliberate and consistent practice.
Normalizing discomfort for yourself and your organization is critical. Why? Because experiencing deep differences often equates to deep discomfort, which activates your brain's fight or flight mechanism. In this mode, critical reasoning goes offline. You respond out of habit freshly responding skillfully from a place of your choice. The equal leader's job is to respond thoughtfully in the face of discomfort and to show openness to deep differences.
Equitable leaders are also adept at seeing systems and understanding interdependence. While valuing difference is the first step in the process of developing 'systems view', leaders can sharpen their view by understanding their own relationship to the systems in which they reside. The tool Minal uses to facilitate this understanding among leaders is the Group Identity Wheel, developed by DEI practitioners and executive coaches Sukari Pinnock-Fitts and Amber Mayes. The wheel helps individuals understand themselves in all their complexity and position their identity in relation to systems and power. It also allows them to understand both their marginalization and their privilege. This is essential to be a committed and just leader. If a leader is interested in allying with people without the same level of privilege, then they should ask themselves, "How can I raise the voices that may be struggling to be heard about mine in this organization?"
This can be uncomfortable, which is why emotional intelligence is critical, especially the stamina to do difficult things. It can be tempting to bury your head in the sand and simply believe that the outside world won't invade your business. But ignoring reality makes you a bad role model for the courageous conversations we need to have if we really want to design a more just world for everyone to thrive in.
* * *

Minal Bobaiah is the author of Equity: how to design organizations where everyone thrives. She is the founder of Concise and white, a strategy + design firm that combines people-centered design, behavioral change science, and the principles of inclusion, diversity, equality and accessibility to help organizations transform themselves and the world. Bopaiah has written for the Stanford Social Innovation Review and The Hill and has been a featured guest on numerous podcasts and shows, including the Kojo Nnamdi Show on WAMU. She has also been a keynote speaker for many conferences and inspired thousands with her credible, authentic and engaging lectures.
Jessica Zucal is a Senior Principal with Evans Consulting. As a change and transformation expert, she works with leaders at individual, team and organizational levels to build capacity for change and create the conditions for success. Jessica is a NeuroLeadership trained coach and certified EQ-I 2.0 practitioner.
* * *


follow us on
Instagram
and
Twitter
for additional ideas for leadership and personal development.
* * *


Posted by Michael McKinney at 7:52am

Permanent link
| Comments (0)
| This post is about Leadership
, Leading Forum