Queensland needs to prioritize vaccinating people in indigenous communities "as an urgent matter" to cope with a low enrollment rate and great hesitation, says opposition leader David Crisafulli.
Key points:
Opposition leader David Crisafulli says only 15 percent of Yarrabah's population is fully vaccinated
Yarrabah Mayor Ross Andrews says his council is struggling to deal with entrenched hesitation
Prime Minister Annastacia Palaszczuk says the government is looking into the situation
His comments came when Prime Minister Annastacia Palaszczuk announced another day without new COVID cases and called on Queenslanders to be vaccinated as she once again faced questions about when the state's borders would reopen.
Crisafulli spoke in the indigenous community of Yarrabah, near Cairns, where he said the COVID-19 vaccination rate was "not good enough" and more needs to be done to publish data on vaccination rates.
"On the last published data from here – now it is about a week old – we had only 15 percent of people fully vaccinated in Yarrabah," he said.
Crisafulli said he would write to Health Minister Yvette D'Ath to ask for a pop-up vaccination clinic this weekend at football final matches in Cairns, which will be well attended by the local indigenous community.
Yarrabah Mayor Ross Andrews admitted that his council was facing an upward struggle to protect the community against the Delta tribe of COVID-19.
"We are struggling to try to get the numbers up around vaccination rates," he said.
"There may be cultural reasons, there may be health reasons, there may be concerns – I think first and foremost that we have caught the light ones, it is the extreme and the extraordinary ones that we are struggling with."
He said Yarrabah was already marginalized and particularly vulnerable to COVID, with high chronic disease and high overcrowding in houses.
Ms Palaszczuk said the state government was aware of the low vaccination rates for indigenous peoples.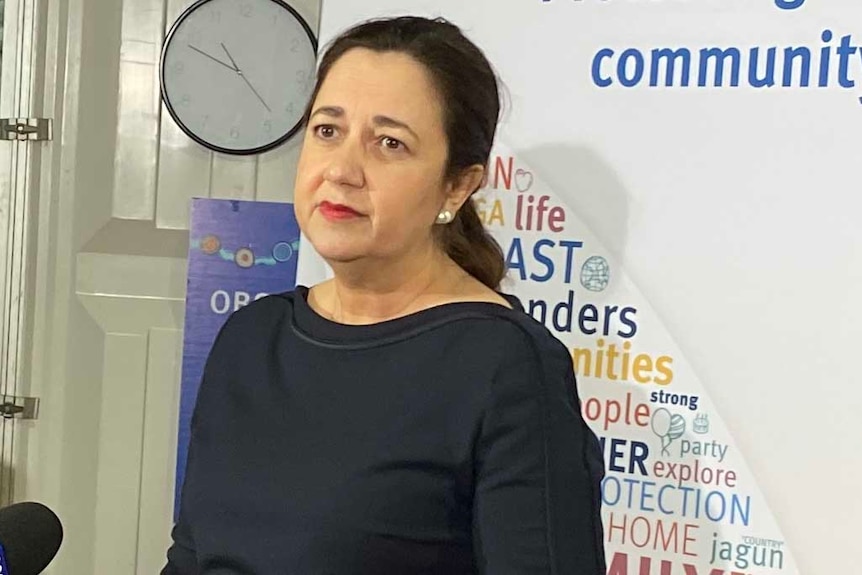 "We have had some really good prices, especially up in our Northern Cape areas, my understanding is that we are opening a few more vaccination centers up in Torres Strait," she said.
"We want to make sure everyone at the northern end of our coastline gets vaccinated."
New modeling key for reopening: Premier
The award signaled that revised modeling due this week would determine the state's path to reopening for people from New South Wales and Victoria.
Mrs Palaszczuk has come under pressure to commit to a plan to reopen state borders as Queensland registered another day without new COVID-19 cases.
Prime Minister Scott Morrison said at the weekend that he could not see why Australians "should be kept apart" if 80 per cent of the population is vaccinated.
He said the premieres must respect the national plan so Australians can get "their lives back" before Christmas.
"It's important that we move on. We can not stay in second gear. We have to get in top gear to live with the virus … this is where we need to be," Morrison said.
Ms Palaszczuk said revised modeling from the Doherty Institute should be available before the end of the week.
Asked whether state borders would open by December, the prime minister said a national plan would be discussed in the national cabinet on Friday.
"I look forward to these discussions with the Prime Minister and all the other premieres," she said.
"We look forward to the day when the whole of Australia can open up and people can be reunited. But for that to happen, we need to make sure people are vaccinated."
Premier said that while she understood that tour operators were doing hard, an outbreak of the Delta variant of COVID-19 would be "catastrophic" for the economy of Queensland.
"What we tragically see in New South Wales and Victoria is that people are locked in and there is no tourism," she said.
Health director Jeannette Young said companies should prepare for fewer restrictions in the future.
"The most important thing the company can do is be out there and say, 'let's get vaccinated,' because the more people who get vaccinated, the more likely it is that we can remove the last remaining restrictions," said Dr. Young.
"I am so grateful to all of our health professionals, they have worked very, very long hours to ensure that when people come forward, they are vaccinated so that they do their absolute best and never reject anyone."
New hubs on the Gold Coast
The state government will open two new vaccination hubs on the Gold Coast – at Tugun and at Coomera.
"They will be able to carry out 2,500 vaccinations a day and that will increase to 3,000," Palaszczuk said.
"They're opening in two weeks, so planning is happening now for that."
Premier said it was encouraging to see schoolchildren being vaccinated.
Recent figures show that 63.78 percent of eligible Queenslanders have now received their first dose of a COVID-19 vaccine, and 44.88 percent have received both.
Loading form …
.