Sweden, a Scandinavian country of just over 10 million inhabitants, has long been known as a positive example for the digital prowess, wealth and social responsibility of its citizens.
Still, not many people know about the business potential, especially in the field of e-commerce. Their population may not be huge, but they have managed to maintain high cash reserves, keep debt low, and survive several waves of the pandemic in relatively good shape.
The Swedes are known for being fluent in English, wealthy, digitally minded and socially aware. The countries high GDP per capita over $55K further supports this argument as the Swedes have more purchasing power per individual compared to 95% of the world.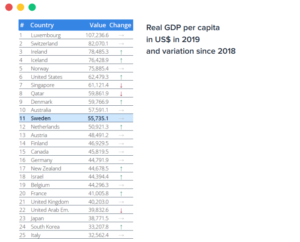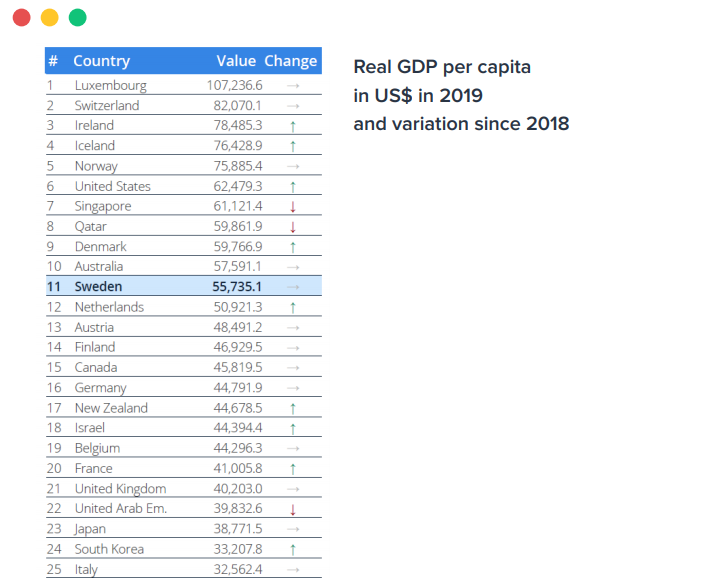 Source: statistic
This should be great news for the eCommerce community, and it's just the beginning.
A developed but underutilized e-commerce market
Even though Sweden has a high e-commerce penetration rate, 73% of the country, there is still room to grow, forecasts predict 84% eCommerce penetration by 2024. This presents an opportunity for established merchants and newcomers alike. However, being successful in this market requires an understanding of Swedes' specific preferences: if you don't have the products they want, at the price they want, you may see them buying from someone else across the border.
Since most of the country speaks English, it should come as no surprise that Swedes buy from English-speaking countries, such as the UK, Germany and even China. In fact, in 2018-2019, almost half of the nationals in this market (49%) have shopped across the border at least once.
And it's not just online shopping that has seen significant growth. Online service subscriptions have also shown robust year-over-year growth in the country, led by categories such as Over-the-top video or digital music services. Analysts predict revenue in the country's digital video market to exceed $1 billion by 2025.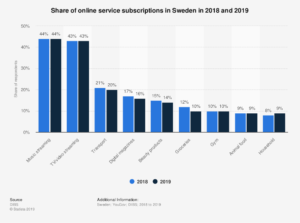 Source: statistic
It's also worth noting that their B2B market also has potential, with: one of the highest penetration rates for businesses selling online in Europe, at 18%.
The Swedish software e-commerce market is also a significant contributor to digital revenue growth in the country. Immediately forecast annualized growth of 7.42% over the next four years, this market is expected to pass $7 billion by 2025. More specifically, enterprise software, which makes up 40% of the category, has grown tremendously over several years and is expected to reach $2.19 billion by the end of this year.

Selling online in Sweden
Given Sweden's embrace of technology, it comes as no surprise that consumers are adopting FinTech in their daily lives and have been a driving force in the development of e-commerce in the country. As a result, companies such as Swish and Klarna came to life in this market. Even Sweden's central bank, Riksbank, is beginning to explore the introduction of a digital currency, e-Krona.
As a result, most Swedes prefer to pay for their online orders using digital payment methods. More specifically, Swish, a mobile app that allows individuals and businesses to transfer bank money between themselves, has launched its adoption goes from 19% to 94% since 2014. 2019, bank transfers accounted for 32% of all online payments in Sweden, with only credit and debit cards (38%) and followed by outstanding invoices (19%) and digital wallets (5%). This distribution is moving the country ever closer to a cashless society, and merchants' ability to accept multiple online payment methods will be critical to achieving market relevance.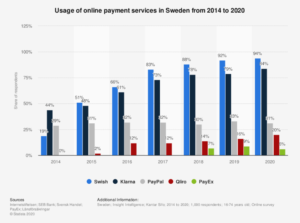 Source: statistic
This is especially true if you're a cross-border seller, as you'll need to make sure you've included popular payment methods in Sweden and local favorites like Trustly, Klarna, and Qliro in your checkouts. But as necessary as the inclusion of these payment methods is, it doesn't stop there… Your payment experience must also be native! Even if one in three purchases are made cross-border, a native experience for Swedish shoppers, one localized to their language and currency, can also increase your conversion rate by 4%, as evidenced by the 2Checkout platform data.
A localized checkout experience also comes with a higher average order value! Sweden is known to have a AOV of $75 per session, and they are only a few dollars close to the US average. So you can see excellent conversions if you give consumers the buying journeys they expect and more of the $1,518 Swedes spend on average online in a year.
Regulations and taxes in the Swedish market
Since Sweden is part of the EU, since 25 May 2018 it is covered by the General Data Protection Regulation, also known as AVG. Therefore, as a merchant in Sweden, you should be aware of privacy regulations when processing and collecting data from customers, employees, users and others, or you may hear from the Swedish Privacy Protection Authority (IMY). This organization is responsible for the enforcement of the GDPR in the country. They will handle complaints, provide data protection to data processors and help organizations comply with the GDPR.
In terms of tax, Sweden is subject to EU VAT rules and will impose a 25% VAT rate in 2021. As an e-commerce business, it is vital to be aware of these rules and to know that you must register with the applicable Swedish tax authorities within 14 days of doing business in the country for the first time. You may even qualify for a zero registration threshold, especially if you are a non-resident company.
Start selling in Sweden
So with this information in mind, how can you? getting started in the Swedish e-commerce market?
By now you are probably already sold on Sweden's potential for digital sales and see future opportunities for business growth. Ready to learn more? We invite you to read our full report for deeper insights that give you a critical edge when enter the Swedish market.