Australia has suffered a "massive foreign policy failure on the prime minister's watch", according to Anthony Albanese.
"This deal between China and the Solomons was foreshadowed last August, the government was warned. Yet, only in recent days did the government bother to send a junior person across to the Solomons, "the Labor leader told reporters from Brisbane.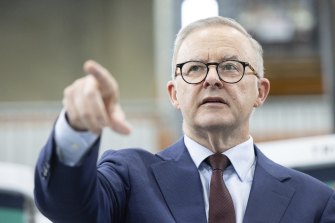 During this morning's press conference, Albanese tried to link Prime Minister Scott Morrison's foreign policy response to his trip to Hawaii during the Black Summer fires.
"Once again the characteristic of this government is on show. A prime minister who goes missing on the big questions. A prime minister who is always too little, too late. Whether it's the bushfires, whether it's ordering enough vaccines, whether it's ordering rapid antigen tests, whether it's responding to the floods.
"This prime minister is complacent. He's always there for the photo-op, never there for the follow-up. "
Albanese was then asked what he would have done to stop the Solomons entering a security pact with China.
"I would be engaging with the leadership of the Solomons and I would have done it over a period of time," he replied.
"The problem is those relationships are not ones that can be done just during when there's a crisis."
During the press conference, the Labor leader said he was prepared to make a personal visit to the Solomons if elected as prime minister.
However, he declined to say whether Labor would elevate the Pacific portfolio to cabinet. The latter comment comes after Senator Penny Wong labeled Pacific Minister Zed Seselja a "junior woodchuck" on ABC radio.