"You are aware of the 'process' issues I have raised with you. I think a more balanced position is that processes in both Ministers [sic] Office and Transport will be reviewed.
Mr Coutts-Trotter had earlier told Mr Sharp that the Premier, if asked what happened, would say "that there has been a failure if [sic] process and as a result both TFNSW and the minister thought they'd done the right thing and were clear about the agreed course of action ".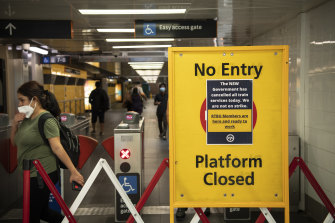 The documents include a timeline by the transport department of the events surrounding the 24-hour shutdown.
Transport for NSW documents state that deputy secretary Megan Bourke O'Neil informed Mr Elliott's chief of staff that the network "could not be run safely and reliably" close to 11pm on the evening before the shutdown.
Loading
Apart from Mr Elliott's office, the timeline also reveals that senior Transport officials briefed other ministers' chiefs of staff late on February 20 about the "network closure" and anticipated disruption.
Ms Bourke O'Neill was put on "directed leave" several days ago, which meant she was a no-show at a parliamentary hearing on Tuesday where she was due to be grilled about what exactly she told Mr Elliott's chief of staff the day before. the shutdown.
Mr Elliott has rejected any suggestion that the conversation between his chief of staff and Ms Bourke O'Neil related to anything other than Fair Work Commission matters and significant disruption of the train network.
The minister's office understands the conversation between Ms Bourke O'Neil and Mr Elliott's chief of staff canvassed only significant disruptions to the rail network – and not a shutdown. The minister's endorsement to re-list the application to suspend protected industrial action was also sought during the brief phone call.
Loading
The government documents also show the chief of staff messaging senior members of Premier Dominic Perrottet's staff on Sunday night warning of "significant disruptions to the rail network".
Labor transport spokeswoman Jo Haylen said the documents made clear that Transport for NSW had briefed Mr Elliott's office of the looming shutdown.
"There is no room for interpretation here. The public service dossier prepared for the Premier is crystal clear. Minister Elliott's office was briefed on the full shutdown of the train network on Sunday night, "she said. "He knew it would happen, and he signed off on it."
The Morning Edition newsletter is our guide to the day's most important and interesting stories, analysis and insights. Sign up here.