VPD officers reportedly discharged anti-riot weapon Enfields – also known as ARWEN 37 'less-lethal firearms' – at people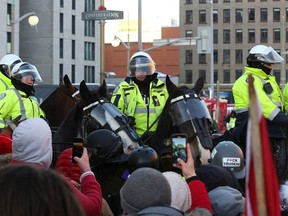 Article content
Officers from the Vancouver Police Department are being investigated by a police oversight agency after allegations they fired anti-riot rounds into a crowd while helping clear the weeks-long occupation of Ottawa's downtown core.
Article content
The Special Investigations Unit Ontario – similar to BC's Independent Investigations Office – is looking into incidents during Saturday's police actions against protesters.
The first involved a Toronto police officer on horseback who is accused of injuring a 49-year-old woman on Rideau Street shortly after 5 pm A release from SIU Ontario said the woman reported a serious injury. Reports circulating online Saturday claimed someone had died or been injured after being "trampled" by a police horse.
Ottawa's interim police chief, Steve Bell, said the horse unit was brought in to create separation between protesters and police. He said two protesters collided with the horses, then got back on their feet and kept protesting. Reports protesters were killed by police horses was a good example of misinformation, Bell said.
Article content
The second incident involved officers from the VPD later in the evening. They reportedly discharged anti-riot weapons, the Enfield Arwen 37 – at people near Sparks and Bank streets just south of Parliament Hill in downtown Ottawa. The weapon can fire a number of munitions sold as less-lethal than normal firearm ammunition, including plastic bullets, riot gas and smoke.
No injuries were reported in, but anyone struck by a projectile is being asked to call Ottawa Police Service.
Like the IIO BC, SIU Ontario investigates any police conduct that may have resulted in death, serious injury or the use of a firearm against a person.
Six investigators and two evidence specialists have been assigned to the two cases.
A VPD official referred media inquiries to the Ottawa Police Service.
– With files from Ottawa Citizen