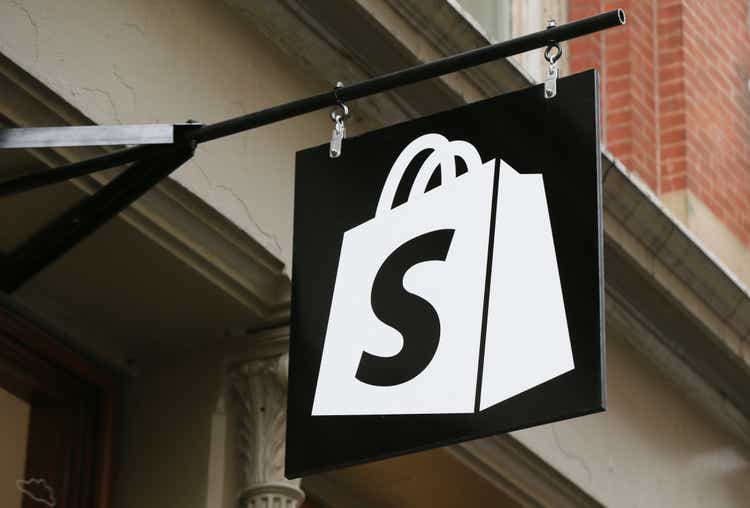 Shopify (SHOP) had a devastating week last week. On February 16, the company released its Q4 earnings, beating on revenue and adjusted EPS. Investors responded by selling the stock, perhaps because of the GAAP miss and vague guidance. In the release, management said that growth will be weaker in the future than it was in the past. The markets were not impressed. However, Shopify is still a fast growing company. In this article, I will advance a neutral thesis on SHOP at today's prices, while arguing that it would be interesting at $ 500 or lower.
Competitive Landscape
To understand Shopify, you need to understand the industry it operates in. E-commerce ("ecom") is very big category. According to Tech Target, ecom is "The buying and selling of goods and services… over an electronic network, primarily the internet." This definition is extremely broad, so it should come as no surprise that there is a wide variety of different business models within the ecom space. Examples include:
Where does Shopify fit into all of this?
Mainly, it's a combination of a website builder and a payment company.
Shopify helps people sell products online, much like Amazon (NASDAQ: AMZN) or eBay (EBAY). The difference between Shopify's business model and theirs is that SHOP offers vendors more independence. Whereas businesses sell their products on Amazon, Shopify vendors run their own websites on Shopify infrastructure. The end result is more control for vendors who choose to go with Shopify.
Why would a vendor choose to go with Shopify over Amazon?
One reason is pricing. Shopify's fees generally range from $ 29 to $ 299 per month, plus up to 2.9% of sales. For a business operating at scale, these fees are quite reasonable. By contrast, Amazon fees can go as high as 45% for some categories. So, Shopify takes a much smaller cut overall. Now, the picture is a little more complicated than that, as you might imagine. Shopify does not have a single web marketplace like Amazon does: vendors are responsible for coming up with their own traffic. For this reason, advertising for Shopify stores can be costly. Amazon vendors often advertise too, but they can usually count on a little promotion from Amazon.com's organic algorithm. Until recently, Shopify had nothing like this, so traffic to Shopify stores was pretty expensive.
Today that's beginning to change. Shopify is working on partnerships with social media giants like Meta (FB), Alphabet (GOOG) and TikTok. These partnerships will allow SHOP to integrate directly into these platforms. For example, using Facebook shops, you can buy from Shopify vendors directly on Facebook.com. Shopify should generate revenue from this if it takes off, so it's just one way that SHOP can close the gap with Amazon on the cost of driving sales.

Business Model
Shopify's business model is based on two pillars: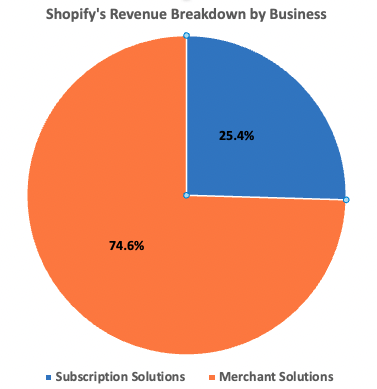 Subscription services are easily explained. They're the monthly base fees that Shopify collects regardless of the amount of sales the vendor makes.
Merchant solutions are a little more complicated. A big part of it is payment processing. The cut Shopify takes depends on the plan the vendor is on: the table above shows the details for three different plans.
Merchant solutions also includes miscellaneous services like:
These services collectively make up a small portion of SHOP's revenue. Small enough that they do not get a separate mention on the company's financial statements. However, they are important to the company's future. The Shopify app store, for instance, is where developers can get the app to integrate their store with their Facebook account. Social media selling has long been considered a key growth driver for Shopify, because it gives vendors a platform to sell on without spending too much on advertising. So, Shopify's Merchant Solutions is an exciting and promising business.
Recent Financials
Having thoroughly explored Shopify's business model, we can now turn the page to earnings. Broadly speaking, SHOP is a fast-growing and profitable business, with positive cash flows and rising sales. Shortly before this article was written, SHOP released its earnings for the fiscal fourth quarter (Q4). The most important results in the release were:
$ 1.38 billion in revenue, up 41%.

$ 351 million in revenue revenue solutions, up 26%.

$ 1,028 billion in merchant solutions revenue, up 47%.

$ 54.1 billion in gross merchandise volume (GMV), up 31%.

$ -2.94 in GAAP EPS, down from $ 0.99.

$ 1.36 in adjusted EPS, down 16%.
As you can see, the bottom line metrics got worse, while revenue and GMV improved significantly. The markets took the results pretty badly. On the day they were released, the stock fell 18%, followed by another double digit decline a couple days later. This is interesting because both revenue and adjusted EPS beat analyst estimates significantly, and full-year cash flows grew 18.8%.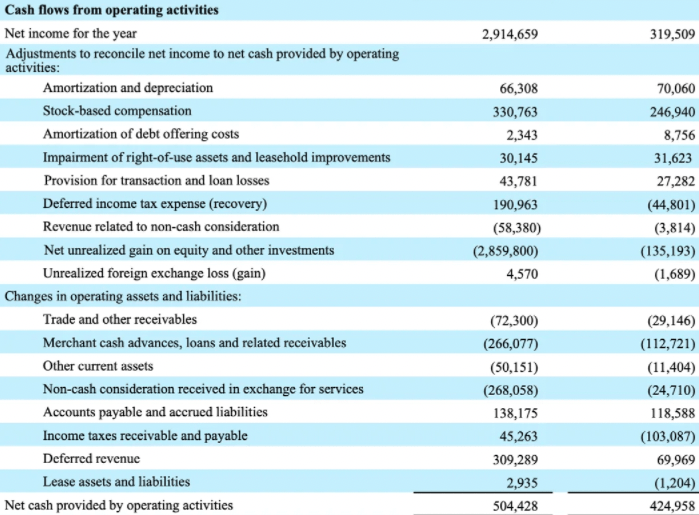 It was not a bad quarter overall. What may have turned off investors was the guidance. The company did not provide a specific number, but it did say that growth would be slower in the first quarter than it was a year before. The reasons given were:
Shopify is no longer benefiting from the pandemic era acceleration in e-commerce sales.

The company recently cut out revenue share on the first $ 1 million of app developer sales, and Q1 2020 still had that cut in place.
Most likely, some combination of the GAAP miss and the guidance spooked investors. GAAP EPS was not only off, but off by a wide margin, and the guidance was perhaps not thrilling. With that said, the market probably overreacted. First off, the GAAP miss was not due to poor operating results, but because of losses on Shopify's stock portfolio. Those losses were not realized, so they are not part of the company's cash flows. They may reverse. Additionally, while the guidance did not sound optimistic, it was consistent with the company's history. SHOP has always given conservative guidance. Right before releasing second quarter 2020 earnings, it suspended guidance altogether, citing uncertainty. The stock tanked, but then when the quarter's earnings actually came out, revenue grew 96% – SHOP's best top-line number in many years.
So, the Q4 results were not bad. The company continued growing, albeit at a slower pace than before. The slower growth was expected, and the top line beat expectations. What we saw in Q4 did not undermine the idea that Shopify is a solid company. It called into question the idea that the stock deserves an infinite price, but it did not suggest that it has no value.
Long-Term Financials
Having looked at the most recent quarter, we can now turn to Shopify's long-term financials.
Here's where things start to look really promising.
Shopify has, in the six years since it went public, delivered absolutely phenomenal growth. In recent years, it has been quite profitable too.
First, let's take a look at this year's growth.
In the trailing 12 month period, SHOP's growth in revenue, earnings, cash flow and book value were:
Revenue: 66.5%.

Earnings: 1,560%.

Free cash flow: 345%.

Book value: 94%.
These are, of course, amazing growth numbers. The five year CAGR growth rate for revenue is even higher, at 67%. Unfortunately, we can not calculate five year CAGR growth rates in earnings here, because SHOP's earnings only swung positive recently. But we do know that Shopify's losses got progressively smaller over the last five years, turning positive due to 2020's e-commerce shopping surge. So, overall, we have plenty of reason to think that SHOP will continue to grow from here. The long-term growth trends are very encouraging, and even if revenue growth decelerates, we can still see superior growth in earnings as long as revenue grows faster than costs.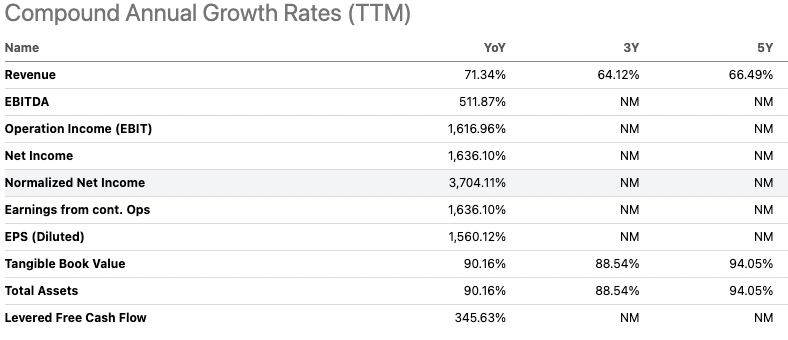 Valuation
Now, we can finally start to look at Shopify's valuation. This is probably the most interesting part of this analysis. For years, valuation was the thorn in Shopify's side. It traded at over 50 times sales for many years, with no earnings. Bears always thought that investors were paying too much for the stock, which nevertheless seemed to always go up. This year we finally saw a significant break in SHOP's "always going up" streak. The stock is down 49% over the last 12 months, and as of this writing, was pointing to a negative open for the following trading day.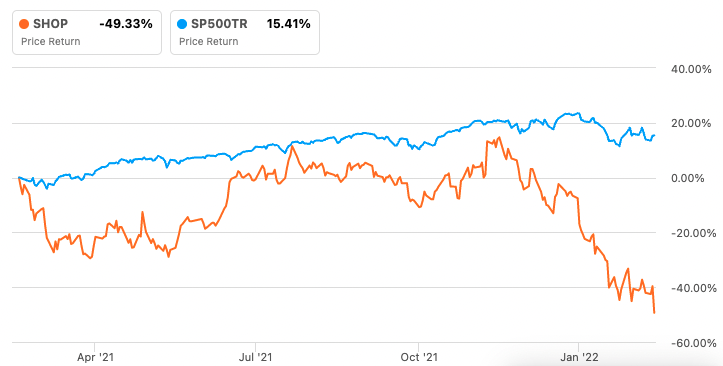 This is precisely why SHOP is now getting interesting from a value perspective. Thanks to the stock selling off in a period during which revenue and earnings grew dramatically, SHOP now has much more attractive valuation metrics than ever before. Highlights include:
Adjusted P / E: 116.

GAAP P / E: 28.

PEG: 0.02.

Price / sales: 17.

Price / book: 8.
These are by far the lowest multiples Shopify has ever had. And they actually compete with some of the "blue chip" tech stocks now. The price / sales ratio, for example, is only a little bit higher than Adobe's (ADBE). And the price / book ratio is actually lower than Microsoft's (MSFT). Yet Shopify's revenue and earnings growth rates crush either of those companies. If SHOP can keep its past growth in the future, it will eventually look like it was a rock-bottom bargain at today's prices.
Risks and Challenges
As we've seen in this article, Shopify stock has a lot going for it. There is almost certainly some price at which it is a buy. Nevertheless, there are risks and challenges facing anyone who chooses to go long the stock. They include:
Negative market conditions. Current market conditions aren't favorable to growth stocks unless their earnings are phenomenal. SHOP, FB and Netflix (NFLX) cratered into the abyss after small misses. AMZN, MSFT and GOOG beat, but still fell a little bit. Investors just aren't patient with even slight weakness from tech companies these days. Anything less than blowout earnings leads to selloffs, and with interest rate hikes still in the discussion, there's no reason to think that will stop later this year.

IOS changes. Apple (AAPL) recently made changes to iOS that made it harder for advertisers to track data. This had a huge impact on Meta Platforms, Shopify's social media partner. Meta said in its Q4 release that the changes would cost it $ 10 billion in 2022. It specifically said that the lower advertising revenue would impact its ecom operations. This is the part of Meta's business that uses Shopify infrastructure. So, the iOS changes that are hurting Meta could hurt SHOP as well.

Competition. There are many companies that do the same thing Shopify does. Examples include BigCommerce (BIGC), WooCommerce and Ecwid. None of these companies are as big or as entrenched as SHOP, but they offer fairly similar services. If these companies keep raising money, they may eventually build up infrastructure that competes with Shopify's own. So, they are a definite risk factor for investors to be aware of.
The risk factors above are very real. Taking them into consideration, I think SHOP is probably still a little risky at today's prices. There are enough headwinds from Apple and competitors to lend credence to the idea that revenue will decelerate in the year ahead. Indeed, management has said that it will. For this reason, I'd wait until $ 500 or lower to buy SHOP. At the $ 500 level, the price / sales ratio comes down to about 13.5, which is more typical of "mature" tech companies these days. A comparison to such companies is warranted because, with the deceleration we've been seeing, Shopify is getting closer and closer to their growth rates. So while I will not buy SHOP now, I'd consider jumping in at $ 500. At that level it looks like it could be a decent value.