06:24
Ukraine defense ministry records 122 violations by Russian forces
The Ukrainian defense ministry says it recorded 122 violations by Russian forces on Saturday, including 108 involving weapons prohibited by the Minsk agreements. It says two soldiers were killed.
According to a statement issued late on Saturday, the ministry said artillery was fired from settlements, landing near residential buildings.
"By doing so, the enemy is trying to force units of the armed forces of Ukraine to open fire in response, in order to further accuse Ukrainian defenders of shelling civilians," the statement reads.
According to the ministry, two Ukrainian servicemen died from injuries sustained from the shelling, while another four servicemen were injured and are currently receiving treatment.
The force added it would not open fire on civilian infrastructure and would continue to adhere to the norms of international humanitarian law.
The Donetsk and Luhansk regions have been at the center of hostilities in recent days, though the area has been fraught with conflict since 2014 with skirmishes persisting between Russian-backed rebels who seek autonomy and Ukrainians.
The two territories are run by separatist governments widely seen as Russian proxy states inside Ukraine.
05:57
In case you missed this statement from the EU council released late last night, the body commended Ukraine's "posture of restraint" in the face of "continued provocations and efforts at destabilization".
Josep Borrell, High Representative for the EU, said:



The EU urges Russia to de-escalate by a substantial withdrawal of military forces from the proximity of Ukraine's borders.
Borrell said the escalation is now "compounded by the increase in ceasefire violations" in eastern Ukraine in recent days and condemned the use of heavy weaponry and shelling of civilian areas, which "constitute a clear violation of the Minsk agreements and international humanitarian law".



We commend Ukraine's posture of restraint in the face of continued provocations and efforts at destabilization.

The EU is extremely concerned that staged events, as noted recently, could be used as a pretext for possible military escalation.
05:34
Zelenskiy calls for sanctions on Russia now, not later
Ukrainian President Volodymyr Zelenskiy made an emphatic statement to the west from Munich's security conference, saying that sanctions on Russia should be made public before and not after a possible invasion of Ukraine occurs.



The security architecture of our world is brittle, it is obsolete … Action is needed. This is not about war in Ukraine, this is about war in Europe. "
In a recent interview with CNN's Christiane Amanpour, the president said:



Even the question of just making it public, preventably, just a list of sanctions for them, for us and to know what will happen if they start the war, even that question does not have the support.

We do not need your sanctions after the bombing will happen and after our country will be fired at or after we will have no borders, or after we will have no economy or part of our countries will be occupied … why would we need those sanctions then? "
Updated

05:16
Russia plans 'biggest war in Europe since 1945', Johnson says
British Prime Minister Boris Johnson has said evidence suggests Russia is planning "the biggest war in Europe since 1945" in an interview with the BBC from Munich's security conference.
The prime minister said US President Joe Biden had told Western leaders that intelligence suggested Russian forces intend to launch an invasion that will encircle Ukrainian capital, Kyiv.
According to Johnson, Russian troops were not just planning on entering Ukraine from the east, via Donbas, but down from Belarus and the area surrounding Kyiv.



All the signs are that the plan has already begun in some senses.

People need to understand the sheer cost in human life that could entail.

I'm afraid to say that the plan we are seeing is for something that could be really the biggest war in Europe since 1945 just in terms of sheer scale. "
People need to not only consider the potential loss of life of Ukrainians, but also of "young Russians", Johnson added.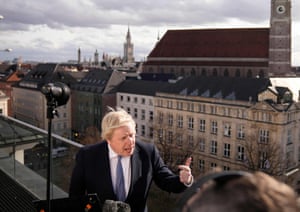 05:04
Summary
Welcome to our live coverage of the Ukraine crisis. I'm Samantha Lock and I'll be bringing you all the latest developments.
Tensions continued to mount overnight after world leaders met at the Munich security conference, calling upon Russia to consider diplomacy and withdraw troops from Ukraine's borders.
Here are the key events you may have missed overnight.
Ukrainian President Volodymyr Zelenskiy called for sanctions on Russia to be made public before and not after a possible invasion of Ukraine occurs.
Zelenskiy continued to assert Ukraine will not respond to any provocations from Russia.
The European council called upon Russia to de-escalate and withdraw military forces, while commending Ukraine's "posture of restraint in the face of continued provocations and efforts at destabilization".
Josep Borrellhigh representative on behalf of the EU, said there are "no grounds for allegations" coming from the Russian-backed Donetsk and Luhansk regions of a possible Ukrainian attack.
Explosions were heard overnight in the center of the separatist-controlled city of Donetsk in eastern Ukraine, according to multiple reports.
US state department spokesperson Ned Price says more evidence of Russian disinformation is being used for false-flag operations aimed at discrediting the Ukrainian government.
US President Joe Biden 's confidence about Russian military action came from US intel about an order given to Russian subordinates to proceed with a full-scale attack, according to senior administration officials as per the Washington Post.
British foreign minister Liz Truss told Munich security conference on Saturday that Ukraine could face the "worst-case scenario" of a Russian invasion as soon as next week, and Europe faced one of its most perilous security situations since the early 20th century.
Speaking in Munich, Ukrainian president Volodymyr Zelenskiy called on Vladimir Putin to meet with him to find a resolution to the conflict. "I do not know what the president of the Russian Federation wants, so I am proposing a meeting," he said.
NATO relocated staff from Ukraine's capital, Kyiv, to Lviv and Brussels, according to multiple reports.
Joe Biden will convene the national security council on Sunday to discuss the evolving situation in Ukraine, the White House announced.
A joint statement from the foreign ministers of the G7 nations urged diplomacy but warned it would "Judge Russia by its deeds".