"They [the government] have inconvenienced the people of NSW just because it was going to be a little bit difficult, "he said.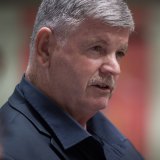 "The ball is in their court, our members are ready to go to work. As soon as the government decides they want to run trains, we can run them. It's Transport for NSW and the government's call to shut down the network. "
The network-wide outage comes after months of industrial negotiations between the state government and rail unions over workplace conditions and safety of the rail system.
The government and union met at the Fair Work Commission over the weekend, where Transport for NSW says the union agreed to removing several industrial measures, including an overtime ban for all employees.
However, negotiations broke down on Sunday evening, with Mr Claassens saying confusion over the unions demand for a ban on acceptance of altered work pushed the rail agency to shut down the entire network overnight.
Sydney Trains chief executive Matt Longland told 2GB radio that Monday would be difficult for commuters.
Customers have been urged to avoid travel or seek alternative options including buses and light rail.
Issues considered sticking points by the RTBU in current enterprise agreement negotiations include workers wanting a commitment that no train services or lines will be lost if privatization occurs, workers seeking a guarantee that any changes to services will leave them "as safe or safer" and workers wanting a commitment to maintain the existing level of hygiene with full-time jobs.
Mr Claassens said the union had been trying to negotiate an enterprise agreement that "enshrines safety" on the train network and wants the NSW government to start resolving the "laundry list of safety and employment issues workers have raised".
Loading
"We've been taking industrial action since September, and we've always tried to deliver a service to the people of NSW," he said on 2GB radio on Monday morning, noting members had arrived at 2am prepared to work.
"They [the government] want to use this to prove a point. For anybody to accuse us of not acting safely is just absolutely low. "
The matter was due to return to the Fair Work Commission at 9am.
At a press conference, held at the same time as Mr Elliott's radio appearance, Mr Claassens asked the state government to "get David Elliott back out here today".
"Where's David Elliott today? I'm not sure. But I need, we need somebody with a calm head instead of trying to take us on, "he said.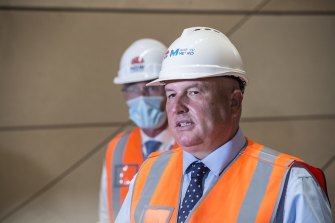 "Come out here and have a proper bloody conversation, and we can get these trains moving again and do the right thing by the people of NSW."
NSW Employee Relations Minister Damien Tudehope labeled the situation "industrial bastardry of the worst form".
He said the government had been left with "no alternative for the safety of the system" than to say trains could not operate safely and reliably, with crews, working signaling and services running on time.
"We're prepared to negotiate, but not in circumstances like this where they just pull the rug from signed agreements," Mr Tudehope said on Monday morning.
Prime Minister Scott Morrison said the industrial action showed disrespect and was "not how this should be done".
"There are people this morning who are going to have an overpriced Uber, or they're not going to be able to get to work," Mr Morrison said during an appearance on 2GB radio on Monday morning.
"This is just not how you behave and this is not how you treat your fellow citizens."
Speaking of the international borders reopening on Monday, he said arrivals were being welcomed to the country's "biggest international gateway" with a train strike.
"This is an important day that Australians have looked forward to," he said.
"The union movement has decided to really pull the rug out from under that on our first day back."
Transport for NSW issued an apology to commuters impacted by the suspension.
"It was clear at midnight following a weekend of intensive negotiations between Transport for NSW, NSW TrainLink and the RBTU [Rail, Tram and Bus Union]that Sydney Trains and NSW TrainLink would not be able to safely operate train services, "the government agency said in a statement on Monday morning.
"This was a difficult decision to make, but we can not and will not compromise on safety.