Officials said about 17% of the population in ICUs is under 30 years old.
AUSTIN, Texas – A total of 12 cases of the delta variant have now been confirmed in Travis County as local health officials say they have begun discussing mass accident planning.
City of Austin Medical Director and Health Authority Dr. Desmar Walkes announced in a virtual meeting with the Travis County Commissioners Court on Tuesday that COVID-19 cases continue to spread rapidly, especially among the unvaccinated younger populations.
Local health officials say talks are still in the early stages regarding the establishment of alternative care prospects if hospitals become overwhelmed. Should the need arise, officials told KVUE that it is unlikely that the Austin Convention Center would be restored as an alternative care facility, and instead they would look at a smaller location.
According to Dr. Walkes has tested positive in only 623 (0.09%) of the 690,000 people now fully vaccinated in the county since January 1.
Austin currently remains in Phase 4 of its risk-based COVID-19 response guidelines.
The area moves to phase 5 if the seven-day moving average of hospital admissions reaches 50, and moves back to step 4 when it is below 30. According to the City of Austin COVID-19 dashboard, the seven-day average is now at 42.
As of Tuesday, a total of 87,946 cases of COVID-19 have been reported in Travis County with 85,233 recoveries. Of these cases, 1,816 are currently active and a total of 897 deaths have occurred. As of Tuesday, 292 people are currently hospitalized in Travis County, with 103 people on the ICU and 59 on ventilators.
Local officials said about 17% of the people currently in ICUs are under 30 years old.
During Phase 4, APH recommends that everyone wear a mask, even if they are fully vaccinated. Fully vaccinated people should wear a mask when attending private gatherings, traveling and eating or shopping, and should wear a mask for outdoor gatherings if they are unable to social distance. Partially or unvaccinated persons should avoid private gatherings, travel, eating and shopping, unless necessary, and should wear a mask when performing important activities.
GRAPHICS: Coronavirus data July 27, 2021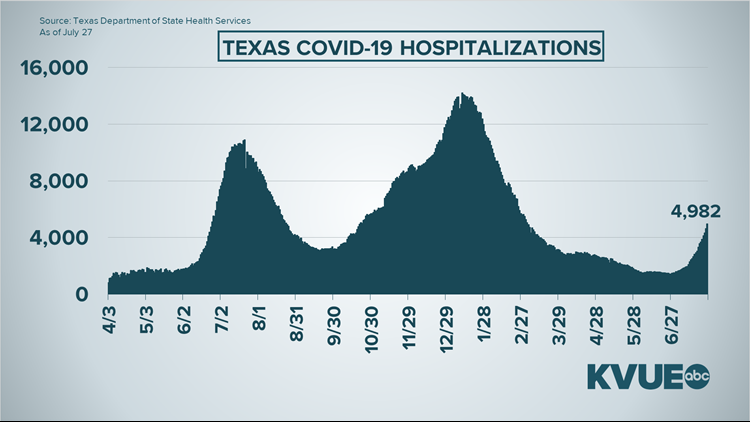 As of Tuesday, these guidelines cannot be enforced except by individual private companies. A decree signed by Gov. Greg Abbott prevents local face mask mandates, and he remains determined to prevent further shutdowns.
Also on Tuesday, the CDC reversed the course and now recommends that vaccinated people start wearing masks indoors again in parts of the country where cases are experiencing an increase.
Click here to view Austin Public Health's Tuesday PowerPoint.
Olympic champion Simone Biles retires from the gymnastics final to protect the team itself
Live updates: Barry Scheck questions forensic pathologist in Rodney Reed appeals hearing
Austin ISD announces virtual learning opportunities for the coming school year